| | |
| --- | --- |
| | Newsletter #3 | November 2020 |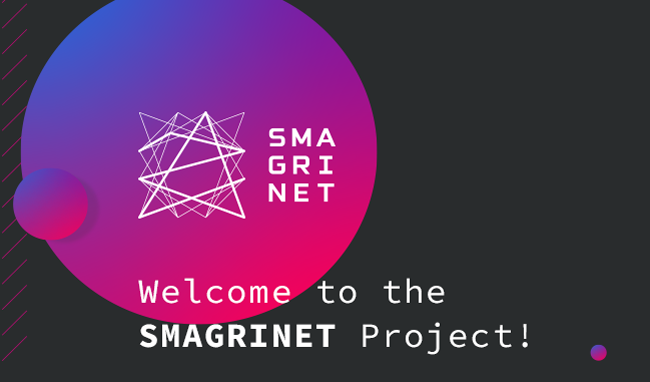 SMAGRINET is finally ready
For the last year and almost a half, people have enquired us – 'what is SMAGRINET, what does it actually do?' - and in all fairness, it has been rather hard to explain or illustrate without a ready product.

Despite the COVID situation, pilot phases and the challenges which we have had to endure - we are finally ready to reveal and provide our services.



Here it comes: SMAGRINET is a learning and knowledge centre, which focuses on the smart grid and provides schooling and material on the subject. It is that simple…
SMAGRINET Newsflash

"Smart Grid: from A to Z" programs are launched – APPLY!
It took us one year to collaboratively create a continuous education program that treats global aspects related to the Smart Grid. It is with delight that we move on to another stage, which is the sharing and dissemination of this program…
Authors:
Kévin Berger, Laurent Dupont,
Alex Gabriel (ULOR)
READ FULL ARTICLE
REGISTER NOW

Status of the International Mobility Program – How are we tackling
Covid-19?
(…) In the spring semester of 2020, almost all Estonian higher education institutions will offer less study mobility to international students than usual. At the same time, at least half of Estonian higher education institutions plan to organize study mobility virtually. We must realize that virtual mobility is an opportunity, but it does not replace physical presence or provide the necessary real work experience. This is especially true for the Smagrinet project, where learning mobility and internships are crucial…
Authors:
Toñis Vare (ETL)
READ FULL ARTICLE

POWER ON Activities: keeping you updated
Since April 2020 all POWER ON Activities started running online. Members of the competence hub were engaged to participate in 3 experience exchange webinars. The focus of the webinars remained - the further development of the Smart Grid capacity building modules and industry-academia-public-administration collaboration…
Authors:
Olga Kyselova (TUB)
READ FULL ARTICLE

SMAGRINET'S WEBINARS
The SMAGRINET Webinar series is now complete. 3 webinars with more than 300 participants were hosted during July, August and September 2020. Each of them focused on separate topics, based on the SMAGRINET Case -and Challenge- based modules: Artificial Intelligence in the Smart Grid; Economic Operation and Societal Challenges in the Energy Sector; and Connection Planning in Smart Grids...

All recordings have been made available at SMAGRINET's YouTube Channel. Access them below:

Clustering consumption profiles of residential consumers
Authors:
Marjan Ilkovski, prof. Boštjan Blažič (ULJUB)

Kruonis Hydro Pumped Storage (KHPS) is a power plant located in Lithuania with the installed capacity of 900 MW. A floating photovoltaic (FPV) system of total 200 MW capacity is going to be installed on the upper reservoir of KHPS. One of the main objectives is to adjust the KHPS generation/ consumption schedule to solar generation forecast in order to reach the maximum efficiency in terms of profit gained from participation in various electricity markets.
Applying a Living Lab Approach to Smart Grid Training Course Design
Authors:
Alex Gabriel; Kévin Berger; Laurent Dupont; Valérie Rault; Mauricio Camargo; Frédérique Mayer (ULOR)

Humanity is facing environmental issues that require the whole way in which we produce, distribute, and consume energy to be challenged. One technical solution that is widely considered is the smart grid, meaning a decentralized and multi-scale smart energy system. For more than a decade, various pilot projects have been implemented successfully all over the European Union. If such pilots are to be scaled up into effective roll-outs, the electrical engineering workforce needs to be prepared, as do the public authorities, engineering researchers and broader public.

| | |
| --- | --- |
| | This project has received funding from the European Union Horizon 2020 Research & Innovation Programme under Grant Agreement no. 837626 |